Lucky Magazine – January 2010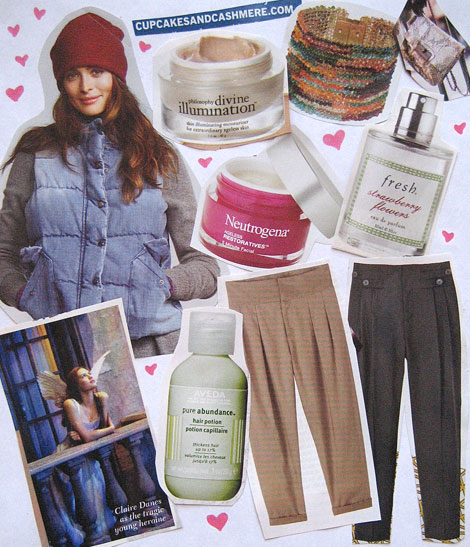 I haven't done one of these magazine collages in over a year (the last one was posted in September 2007). They are just fun little pages where I glue all of the things that catch my eye from a single magazine issue. I don't usually hang on to old issues of fashion mags, so this is a way to digitally archive the things I liked.
Recently, Cookie magazine shut down and they replaced my subscription with one to Lucky. I don't mind. (Well, I do mind that Cookie is gone – I liked that mag.) I have fun looking through fashion magazines; I just never felt quite right subscribing to Lucky, the self-proclaimed "magazine about shopping." But, now it is here, so I might as well enjoy it!
My favorites:
Gap chambray down vest – Man, I love this denim puffy vest! Sadly, I can't find it on the Gap website… (p. 99)
CupcakesandCashmere.com – A new blog I will check out. It is about shopping… (p. 30)
Philosophy Divine Illumination- This moisturizer claims to disguise imperfections and brighten your skin tone. It is new, and I am always game to try something new! (p. 69)
Lavish crochet and glass bead cuff bracelet – crocheted gold wire with beads – very cool. (p. 84)
Coach Kristin Bag – I really like these new handbags from Coach. I am thinking about a black one… (p. 58)
Fresh Strawberry Flowers Eau de Parfum – I like the fresh brand and this perfume sounds really pretty… I guess I would need to smell it first to confirm. (p. 75)
Romeo + Juliet – So, this isn't really a fashion item, but Romeo + Juliet was referenced as an influence for one of the fashion spreads in the magazine and it really took me back. The movie came out when I was a sophomore in high school – back when PG-13 movies were still quite cool in my mind – and I was just blown away by it. I don't think any other movie could be more cool to a 15-year-old girl! I need to watch it again asap! (p. 39)
Aveda Pure Abundance Hair Potion – Intriguing. It is a powder that transforms into a lotion that claims to give your hair body and texture. (p. 26)
Cropped, pleated pants- These usually wouldn't be something I would go for, but they are coming into style for spring and I think I could pull them off. Maybe. (p. 88 & 110)
That is about it… I picked out more beauty products than clothes this time. Maybe January isn't the best time for fashion – it is too early for spring styles, but winter clothes no longer have any appeal… What has caught your eye this month?