BirchBox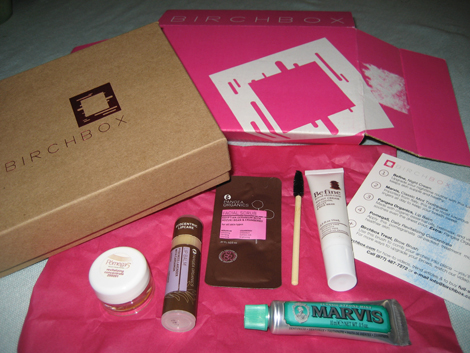 A few months ago I started hearing about BirchBox. It is basically a sample box of beauty products that you can purchase each month for $10. Two friends specifically recommended it to me because they know about my interest in makeup and skincare products. I love trying new things, so I was immediately intrigued!
Ten dollars is a tempting price. It is low enough that you don't have to fret about it too much, plus it covers the shipping and handling of the BirchBox. I was sold and decided to sign up in February as a birthday present to myself. Sadly, I missed the February shipment and had to wait until March. My box arrived just a few days ago and I eagerly ripped it open!
The March BirchBox was beautifully packaged and contained five samples: Befine Night Cream, Marvis Classic Mint Toothpaste, Pangea Organics Facial Scrub, Pangea Organics Lip Balm, and Pomega5 Daily Revitalizing Concentrate. (Also included was a "free gift," the brow brush seen above… kind of silly, but I'll take it.) The samples are indeed large in general and I think they are definitely worth the $10.
Of course, with any "surprise grab bag" type of purchase, you might end up with some things that you aren't thrilled about. I think I was most excited about the Marvis toothpaste because it is something that I had wanted to try. So far, I've also tried the Pangea Organics Lip Balm and the Pomega5 Daily Revitalizing Concentrate. Both are very pungent – I guess because of the organic essential oils used in them – but they seem to work well enough. However, I think I will end up sticking to my current fave lip balm and face serum…
I am still on the fence about ordering future BirchBoxes. The fun surprise aspect is so tempting and the professionalism of the packaging and website is reassuring, but in the end, you are basically paying for someone to send you advertising… although it is advertising that you can use. Hmmm. I do like many of the brands represented by BirchBox, but I don't like how they are constantly pushing the sale of the full-size products (even though I realize that is how they'll sustain the business model).
What do you think? Have you tried BirchBox? Do you think I should order a second one?
Related posts: