clutter love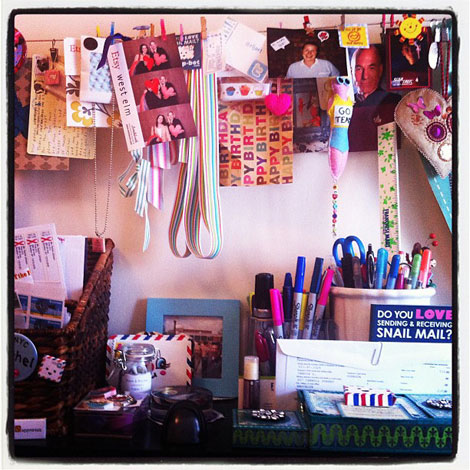 I always thought I could create one of those beautifully styled homes you see in decor magazines. I know that they are not reality, but I still thought I'd be the one person who could make it a reality. Ha! In my actual reality, I have a love/hate relationship with clutter. I want a tidy home, but I love to surround myself with little tidbits that remind me of the people and experiences that I love.
This is my office desk area. It is craziness. Really. So many little things — hung on the wall, arranged on the shelves, stacked on books, and pinned to bulletin boards. I really worry people who visit will think I am a hoarder, but I actually do have a semi-successful organization system.
All of the things near my desk are reminders. Reminders of things I need to get done or reminders of people who make me happy. In this photo you can find representations of nearly every one of my family members, plus Swap-bot goodies, Team in Training memorabilia, and just plain, pretty stuff that I like to look at. I don't think I'll ever change my cluttered ways.
Related posts: