family trip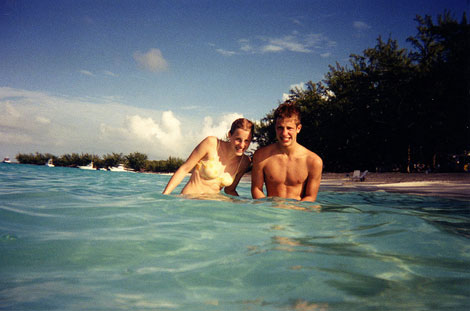 I woke up thinking about The Bahamas this morning.
My family took a trip there for Christmas in 1998. With four kids, I am actually amazed at the amount of traveling we did — The Ozarks, Saint Louis, Rhode Island, Chicago — but our trip to The Bahamas was our first (and only?) exotic family trip outside of the "main land." It was my senior year of high school and I was a year into my romance with Travis… so my attitude wasn't the best.
I can't imagine traveling with four teenagers (turns out, my parents were saints) but I think we actually had a good time. My favorite part was when we took a chartered boat out to a tiny island for a day. We hung out on basically our own private beach and were fed lots of coconut and pineapple. That is where this photo (the only one from the trip that I have in digital format) of me and my brother, Adam, was taken. The water was very clear and blue.
My dad also arranged for us to swim with dolphins, which was a thrill. They feel like wet rubber, but are very cute and friendly.
The rest of the trip details are a bit fuzzy… I know that we snorkeled a bit, went to a botanical garden that had seen better days, rode in a crazy taxi, and went out at midnight one night to see the Junkanoo celebration… where I almost passed out. (In retrospect, I think I was dehydrated, but also overwhelmed.)
Our trip was definitely a unique holiday celebration. It was also a valuable opportunity for four midwest high school kids to see something outside of our daily suburban lives. I know that was important to my dad. Now that I am an adult (and have trouble planning a quick trip to KC for the holidays for me, Travis, and a little dog) I am amazed by how well he planned, organized, and paid for a tropical vacation for six people!
Related posts: