Park City, Utah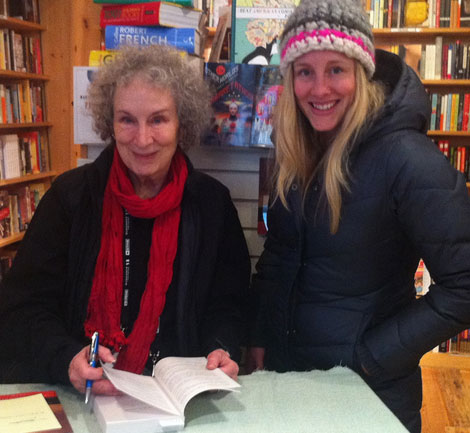 I've already written a lot about my trip to Alt Summit last week (you can read even more about it here), but I still had to share this photo of me and author, Margaret Atwood, that was taken in Park City on Saturday.
By the end of the day on Friday I was exhausted. After being totally "on" for two and half days of conference going, I wasn't sure if I wanted to follow through with my plans to head up to Park City on early Saturday morning… but man, am I glad I did! The road trip up the mountain to the home of the Sundance Film Festival was one of my favorite parts of the whole trip.
I stumbled on Margaret Atwood signing books at Dolly's Bookstore on Park City's main street. I was sort of blown away. The Handmaid's Tale is one of my very favorite books — a futuristic story with a strong, central, female character long before the days of The Hunger Games — and I plan to read ALL of her fiction. So, I purchased The Blind Assassin and got in line to have it signed. Atwood was lovely and kind and didn't even seem too annoyed when I asked for a photo. I am impressed by her seemingly grueling speaking and promotional schedule. She was in Park City because her non-fiction book, Payback, had been adapted into a film being premiered at Sundance.
Sundance proved to be an art adventure in more ways than one. I did indeed see a film (which I hope to write about in its own devoted post) and I also ran into this Banksy mural on the side of an ice cream shop…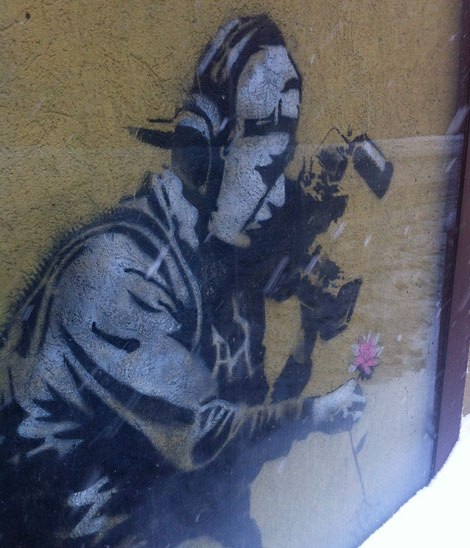 Very cool. I was told that Bansky made the art while he was in Park City for Sundance when his film Exit Through the Gift Shop premiered in 2010. The store owner put the protective glass and metal bars around the piece after poachers tried to steal it. I think Banksy is trying to say something about how documentary filmakers make an adverse impact even when they are trying to be helpful… what do you think?
Oh, and did I mention that the whole time we were wandering up and down Park City's main street, it was pouring snow? It was basically a blizzard and apparently the highways had to be closed later in the evening! I was stomping through mounds of snow and trying not to fall on my face in front of movie stars and paparazzi. (BTW: the only stars, besides Atwood, that I saw were Will.I.Am and Robin Weigert, from Deadwood.) Thankfully, I was wearing two items that made the snowy trek totally possible: my No.6 store clog boots and my Brooklyn Industries puffy coat. Both performed wonderfully! I recommend them.
Also, I posed with a moose: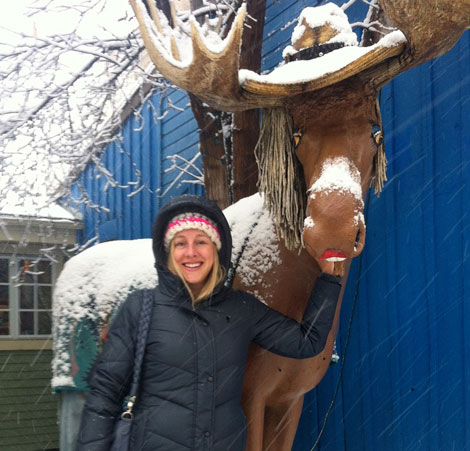 Related posts: