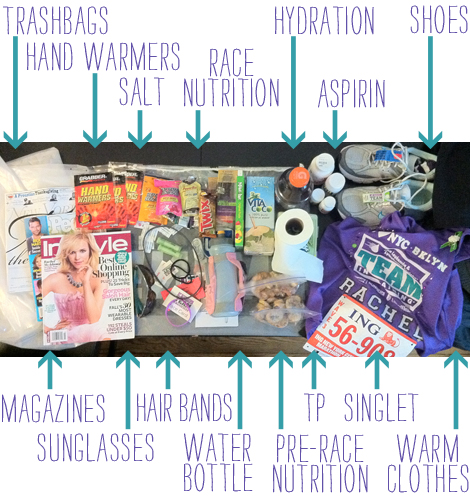 I think I am nearly ready. My gear is all laid out. (Who knew I'd need so much stuff! And yes, candy IS my fuel of choice.) My number is pinned to my shirt. I am drinking Gatorade. Is the marathon really tomorrow?!
26.2 miles. 5 hours. 5 boroughs. 40,000+ runners. 1 million spectators. It should be an incredible day!
Right now, I am curled up on the couch surfing the web and trying to keep my mind off of my 4 am wake up call tomorrow morning. Travis has run about four thousand errands for me so that I can stay off my feet. (He is truly the best.) It seems impossible that the marathon is finally here. My brain is numb. I have been prepping and training so intensely over the last few months, it seems strange that it will all be finished in 24 hours. I am as prepared as I can be, and mostly, I just want to have fun and take in the city tomorrow. It will be one huge, long party, right?
More than 160 people donated to The Leukemia and Lymphoma Society through my Team in Training page, which helped me surpass my fundraising goal of $5,000. I feel so blessed to have the support of so many people and am thrilled to have met that goal. It seemed so daunting at the beginning of the season. Thank you so much to everyone who donated. Your generosity has truly touched me and I promise to pay it forward.
Overall, the full New York City Team in Training raised over 1 million dollars for the LLS this year! Awesome. Three hundred TNT peeps will be running the NYC marathon tomorrow. Look for us in our purple shirts! Or better yet, come out and cheer with the team!
Tomorrow, I leave home at 5:30 am. I will get to Staten Island (the race start point) by 7 am. I don't start running until 10:40! I will try to stay calm while also enjoying the crazy race atmosphere… then, I will line up on the Verrazano-Narrows Bridge… and then, I will run!!
If you want to follow along with my adventure, I will be "live-tweeting" as much as I can. (Yes, including during the race!) Follow @rljart on Twitter for all the updates, or check out my Facebook page for only the most juicy stuff.
Lastly… I've been thinking about the fact that running a marathon is sort of a pointless endeavor… I mean, I am not going to win. ha. Not even close. There are many reasons I could give as to why I am doing this – exercise, to support the LLS, camaraderie – but I think the main reason is that I enjoy setting big goals. And, why not? Like Travis said, we will most likely remember November 7th, 2010 for the rest of our lives because of this crazy event. I don't think I could say the same thing if I wasn't running a marathon tomorrow. I just hope it will be remembered fondly!
Related posts: