Before I forget all of the details, I wanted to write down everything about Adam and Nina's wedding. It was such a great day! So sunny and warm!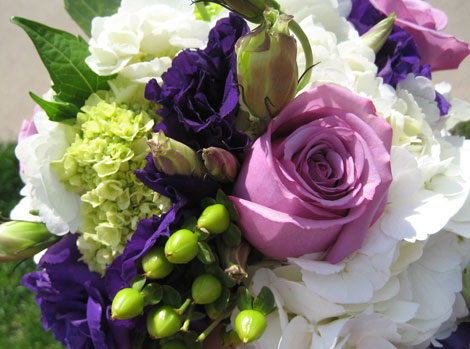 Nina and Adam met in med school at KU. They both graduate in about three weeks and planned their wedding and honeymoon to correspond with their move to Portland, Oregon, for their residencies. A killer busy time, but very exciting!
Adam and Nina were married on Friday, April 29th — same as the royal couple, but they picked the date first!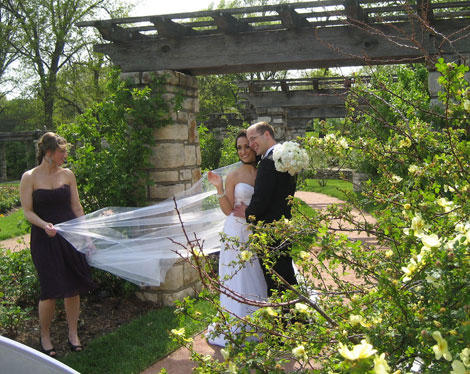 In the morning, I went to get my hair done with Nina and the other bridesmaids. Nina seemed to be in an awesome mood (which is more than I can say for myself at my wedding day hair appointment) and all of the hair-dos seemed to go smoothly. (I had wanted something similar to this and my sweet hairdresser got it reasonably close.) Nina was wearing her hair down, so it was set in curls and then pinned up while we traveled to the hotel to eat lunch, change, and do our makeup. The photographer met us at the hotel and took some "backstage" shots while we got ready.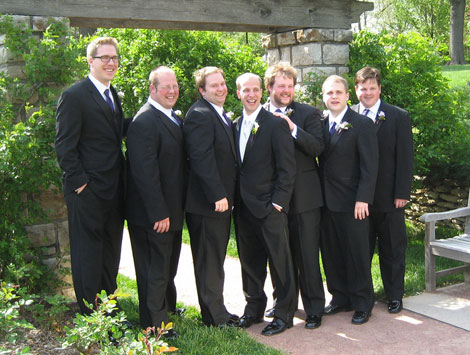 We left Nina and Adam alone with the photographer to get their "first look" shots and then we all traveled to Loose Park to take wedding party photos in the Rose Garden. The outside photos are going to be spectacular! Even the quick ones I snapped with my crappy little camera look fabulous. It was really windy, which was a bit annoying, but I know that there are going to be some awesome shots of Nina's veil blowing in the wind. Both the bride and groom looked great, but I don't think Adam will mind me saying that Nina was especially breathtaking.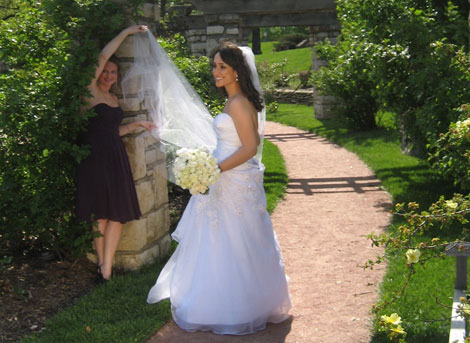 I had a lot of fun with the picture taking — as evidenced here — but soon we had to head over to Studio B, the ceremony location. It was slightly hectic getting ready for the ceremony. A few key people were a little late, some of the ceremony procedure had to be ironed out… but it all worked out perfectly.
There was a quick ceremony before the official Persian ceremony by a representative from city hall. Nina had arranged the preliminary ceremony just to make 100% sure that everything was totally legal. Their Persian officiant was from Texas and not technically recognized by the state of Missouri. The preliminary ceremony was actually really sweet. The wedding party got to gather around and witness as they exchanged vows. Then, we all lined up for our processional into the main room for the Persian Ceremony with all of the guests.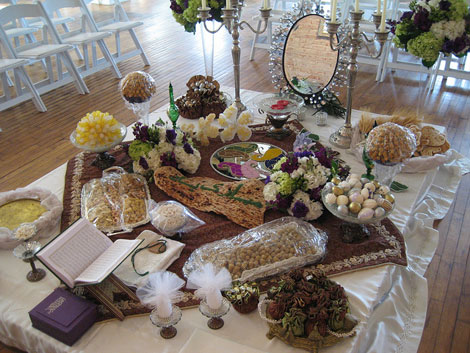 Adam and Nina had a traditional Persian wedding ceremony. It was very pretty and fascinating. Nina wrote the following info about the ceremony for the programs:
A traditional Persian ceremony is centered around a spread called the Sofreh Aghd (seen in the photo above).  Every item on the Sofreh Aghd symbolizes different qualities that the couple hopes to bring into their new life.
The items and their symbolic meanings:
Mirror – To bring light and brightness into the future
Two candelabras – Fire and energy
Flat bread – Prosperity for feasts
Eggs, walnuts, almonds, hazelnuts – Fertility
Crystallized sugar – To ensure sweetness in life
Gold coins – Wealth and prosperity
Rose water – God's blessings for the couple
Termeh (traditional Persian embroidered cloth) – Family and tradition
Wild rue – For health and to keep away evil
Prayer rug – Importance of prayer
Sweets and pastries - Eaten after the ceremony in celebration  
Naan-o-panir (bread and cheese) – Eaten after the ceremony in celebration  
Two large sugar canes will be ground over the couple throughout the ceremony. This represents showering the couple with sweetness and happiness.  
Traditionally, the groom will be asked if he wishes to enter the marriage.  Then the bride will be asked three times if she wishes to enter the marriage, and it is not until the third time that she will answer.  
When the ceremony comes to an end, the couple exchanges a taste of honey to represent the first taste of a happy new life.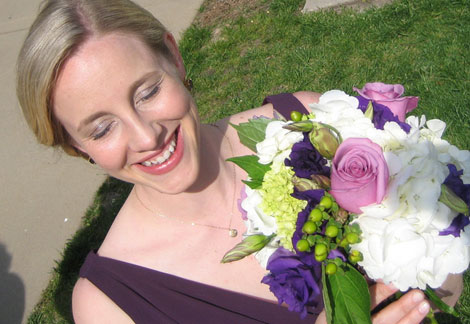 I was so thrilled to be part of the wedding party. I got to help hold a pretty cloth over Adam and Nina during the ceremony and grind some of the sugar on top. The officiant was a lot of fun and made the ceremony personal. Adam used my grandfather's ring as his wedding band and the officiant asked my grandmother about its provenance during the ceremony — my grandfather wore the ring non-stop for 54 years! Very Special!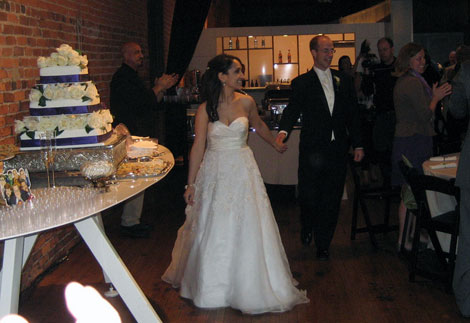 After the ceremony, we all headed over to the Berg Event Space for the reception. The venue, an urban loft, is really pretty with exposed beams, big windows, and wood floors. My Mom and Dad and my sister-in-law, Amber, had done all of the table and decoration set-up earlier in the day and everything was lovely.
The reception was just total fun. The food was great, Persian dishes with rice, plus an amazing three-tier cake made by Nina's aunt, and there was lots of music and dancing. I wish I could have danced more, but I spent most of the night socializing and talking with family and friends. I also snuck out with my brothers and a few cousins to decorate the happy couple's getaway car. We had a good time.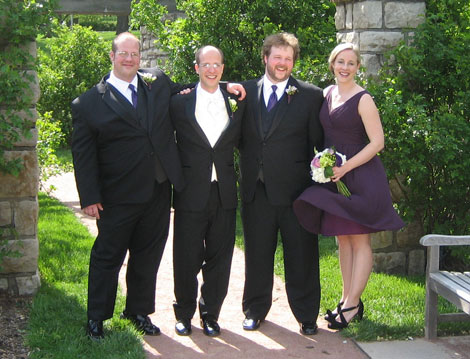 It was a really full day, but I just let myself relax and enjoy it. (That is much easier to do when you aren't the bride!) It was wonderful to be with my parents and brothers. They each really stepped up and did a lot of work to make sure the day ran smoothly. My brothers (and sisters-in-law) are really my favorite people in the world. It is odd that they are all adults now with skills and interests that I know little about, but I love them more than ever. My only regret from the night was that I didn't get to spend more time with Adam and Nina. Understandably, they had a lot of people to meet and greet and the night flew by, but now they are off in Greece on their honeymoon and then they will be off in Portland starting their life together. I may not get to hang out with them for a while …gosh… I guess this is a glimpse of what parents feel!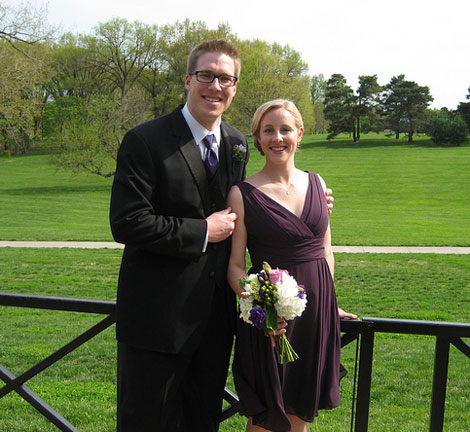 Travis' dad took some video during the night and he put together this cute "movie trailer" — I can't wait to see the full video! Also, here is the link to my Nina & Adam Wedding Flickr Photo Set one more time.
Related posts: